These photographs are of a Flagstone floor tiled floor we stripped and sealed at a house in the West End of Glasgow. If you're not familiar with Glasgow that well then, it's worth knowing that the West End of Glasgow is the more favoured end and contains the best hotels and attractions, where as the East End is traditionally the industrial part.
The flagstone floor was very dirty and had numerous marks and staining. Interestingly we were not the first company to work on this floor, in fact before we got the call another company had already tried to carry out the work and made a mess of the floor followed by giving up and walking away from the job.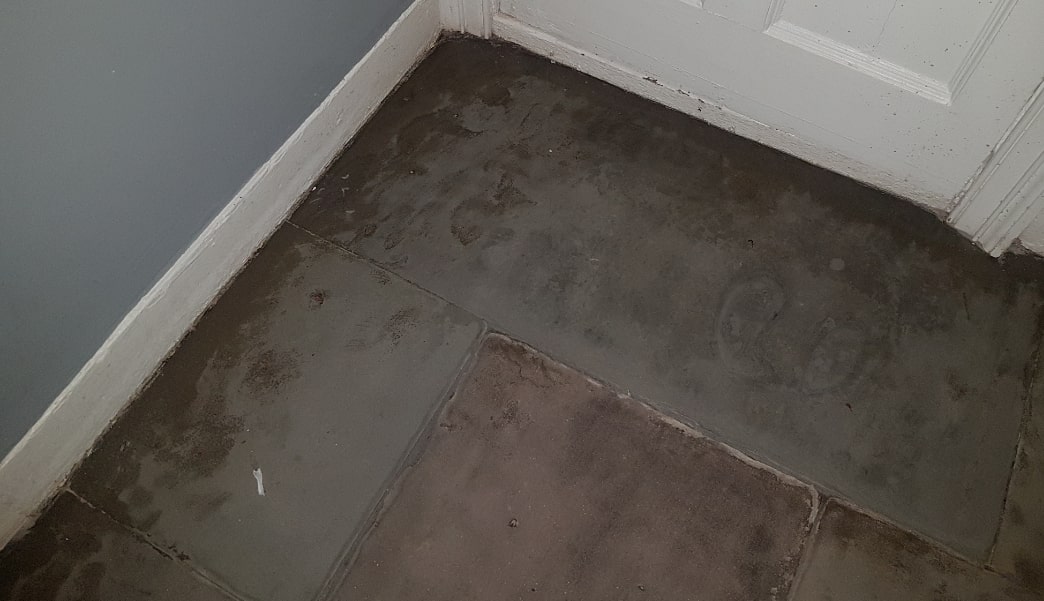 We clearly had our hands full however we have done this sort of work before and being part of the Tile Doctor network means we have the resources and experience of a large organisation behind us, so we were not overly concerned.
Cleaning a Flagstone Floor
Working in sections we stripped the floor using a strong solution of Tile Doctor Pro-Clean mixed 50:50 with Remove and Go. This creates a powerful coatings stripper and tile cleaner that can safely shift coverings from tiles. The solution was left to dwell before going over the floor with a very coarse 100 and then 200-grit diamond milling pad which worked well with the cleaning products to restore the look of the flagstones. Naturally it wasn't as easy as it sounds, the process needed to be repeated several times to get the previous sealer removed and the stone surface restored.
Once satisfied the Flagstone surface was restored, we then gave the floor a couple of cleans using Tile Doctor Pro-Clean to remove any remaining soil and to get the grout lines clean. Then to neutralise the pH level of the floor prior to sealing it was rinsed with tile doctor neutral tile cleaner.
The floor was then left to dry out overnight assisted by a couple of turbo air movers and a heater that we left behind.
Sealing Flagstone Flooring
The next day we returned to seal the floor first checking the floor had dried. Fortunately, the equipment we left behind had done their job and so we could proceed with the application of the sealer. The sealer we chose for this installation was Tile Doctor Seal and Go which will protect the stone and allow for easy cleaning and maintenance for customer.
One finished the floor looked much cleaner, the stains had gone, and the sealer added a nice subtle polished appearance to the flagstones. The owner of the property was very happy with transformation we had achieved and much relieved that the floor could be restored.
Professional Renovation of a Flagstone Floor in Glasgow