The photographs on this page are of a natural Rough Slate tiled floor installed in the ground floor and stairs of the Touch Business Centre in Stirling where recent building renovation works had left the floor covered in dirt and plaster dust which they couldn't remove. The owner of the business centre now needed the floor renovating prior to renting out the units to new tenants.
Dating from around 1750 the business units had been converted within the stable block of a large house; now a listed building they would originally have been used for horses and carriages before becoming a milking parlour, estate workshops and garages. The conversion was supported by Historic Scotland and had to retain the feel and features of an historic building and the slate floor was an important part of this.
Cleaning Slate Floor Tile and Grout
To remove the dirt and plaster we used a dilution of Tile Doctor Remove and Go which is a strong coatings remover that's safe to use on natural stone but also very effective. It was mopped onto the tile and left for around twenty minutes to allow it to soak into the pores of the tile and get to work and break down and soften any remaining sealer and plaster etc. This was then scrubbed into the tiles using a black pad fitted to a rotary machine running on a slow speed; the resultant soiled cleaning solution was then extracted using a wet vacuum, the floor rinsed and the process repeated until we were satisfied the floor was completely clean.
Sealing Slate Floor Tiles
After allowing the floor sufficient time to dry we returned on-site to seal the slate tile and protect it from stains etc checking first with a damp meter that the tiles were indeed dry. To seal the floor we used five coats of Tile Doctor Seal and Go which is a water based sealer (no smell) which adds a nice sheen to the tile and gave the desired finish.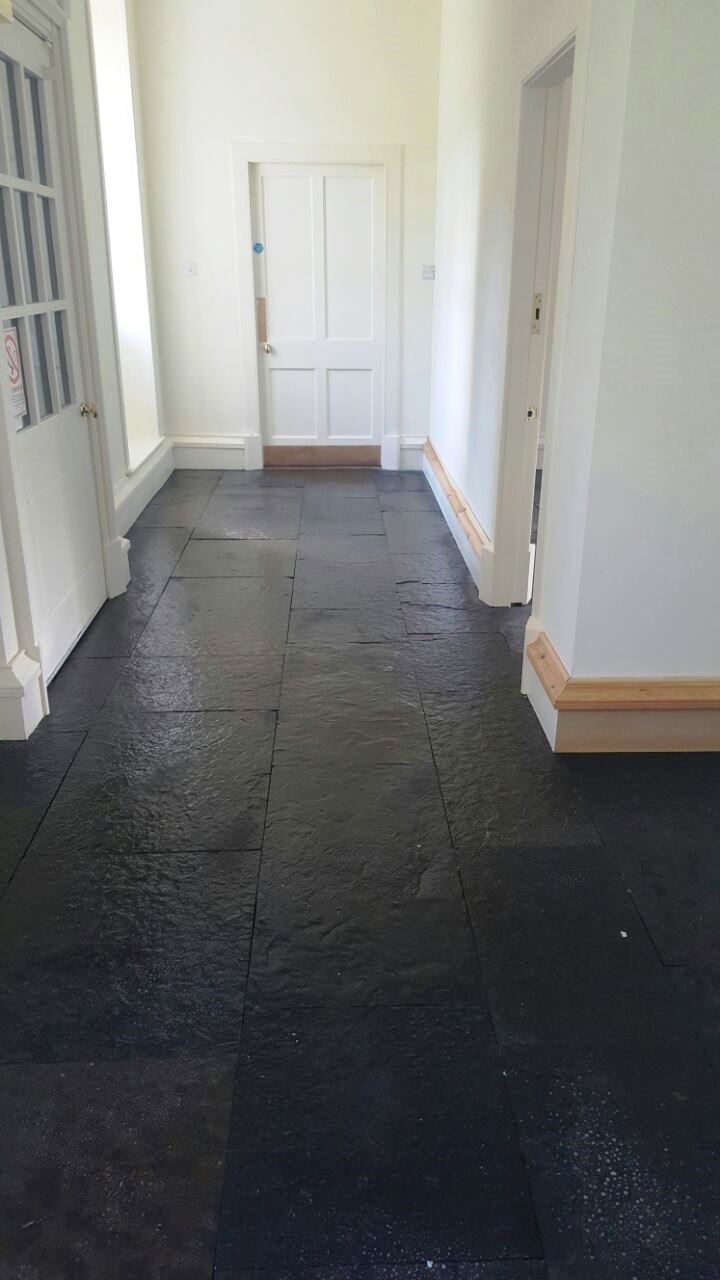 Cleaning and Sealing a Slate tiled floors after Building works in Sterling