On rare occasions we encounter extremely dirty tiled floors which have clearly not been cleaned for months, or even years. As you can see from the first photograph, this Slate tiled floor at a property in Gateside is an example of one of these extreme cases, being completely caked in thick layers of dirt that had amassed over a long time.
While Slate is typically more hard wearing and rougher in texture many other types of tile, this doesn't mean that it requires less frequent maintenance. With the floor measuring in at 20×20 metres, getting the tiles back to looking their best would be a big job, and certainly one that required the attention of a professional.
Cleaning an Extremely Dirty Slate Tiled Floor
As the tiles were exceptionally dirty, I applied a strong dilution of our alkaline cleaner, Tile Doctor Pro Clean, which can be used for both light soil buildup and very heavy soil buildup. After applying the product, I left it to dwell for a healthy period to allow it to break down the thick layers of dirt.
I then used a black scrubbing pad fixed to a heavy rotary machine to scrub the tiles, extracting the resulting slurry using a wet vac machine. Due to how dirty the tiles were, I repeated this process several times until satisfied that the tiles were as clean as possible. Next, I paid attention to the grout, cleaning it by hand, again using Pro Clean. Once this was completed, I rinsed the floor a few times with clean water to remove any trace of chemical.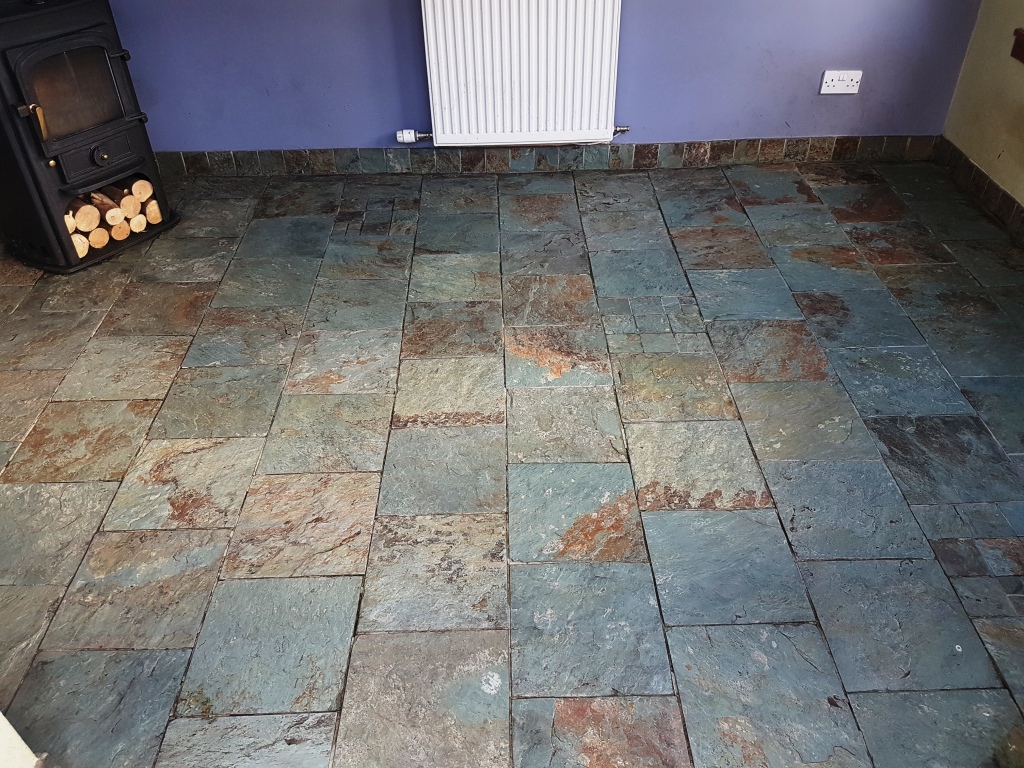 Sealing a Slate Tiled Floor
I was keen to seal the floor the following day, so I installed a fan overnight to speed up the drying process. As many will already know, a tiled floor cannot be sealed until it is completely dry, or else the excess moisture will cloud the sealer.
Upon my return to the property the next morning, I used Tile Doctor High Shine to seal the floor as requested by the customer. This sealer is specifically designed for use on textured natural stone such as Slate, providing a durable, resistant and high shine surface seal. I applied four coats in total.
The customer wasn't at home when I finished the job, but he sent me a text later in the day to say just how impressed he was with the transformation of the floor. Another satisfied customer!
Professional Restoration of a Heavily Soiled Slate Tiled Floor in Ayrshire