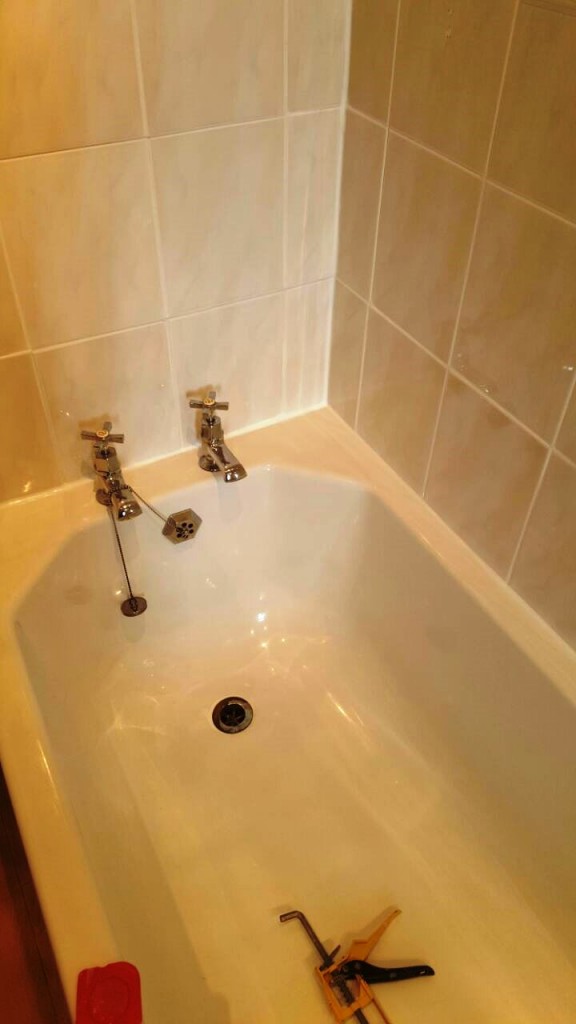 This bathtub with shower over was at a house in the village of Kilmacolm near Greenock. As you can see from the photograph below the grout was stained in places and a tile had become loose behind the taps due to a previous leak causing it to fall out.
Refreshing a Ceramic Tiles Bathroom
The first job was to put the loose ceramic tile back on the wall, a process involving the scraping off the adhesive and grout from the wall and tile before re-fixing with fresh tile adhesive and the grouting. We placed a blanket in the bathtub during the work to protect it.
Next the tiles were given a wash down Tile Doctor Pro-Clean with particular attention paid to the grout by scrubbing it with a stiff brush. It was our intention to use a grout colourant on the grout and I wanted to ensure we had a good bond.
Whilst the tiles were drying I set about stripping off the old silicone sealant between the bath and the ceramic tiles wall, debris cleared and any remaining sealant was carefully scraped away and then replaced with new silicone.
Grout Colouring
Last step was to apply two coats of white Tile Doctor Grout Colourant, this product is basically painted on top of the existing grout with any excess wiped off the adjacent tile before it dries. It's an epoxy based formula that becomes a long lasting barrier protecting the grout and also making it much easier to clean, it looks natural and combined with the new silicone it gave the whole bath surround a real uplift.
The job was completed in a day and I think you will agree the whole bath area now looks like a new installation.
Refreshing a ceramic tiled surround in the Clyde Valley